Giving Tuesday
*** UPDATE  Jan, 2019 ***
YOU DID IT!
THANK YOU FOR A SUCCESSFUL #GIVINGTUESDAY!
Thank you once again for your donation. It means the world to us!
#GivingTuesday, gobal giving day is Nov 27, 2018. Every year on Giving Tuesday, people come together on Facebook to support the causes they believe in by donating and fundraising for causes they care about. This year Facebook and Paypal are matching up to $7 million in donations on Facebook.
If you Donate to our Giving Tuesday #Give2MarcJrFnd campaign on Tuesday, November 27 itself, you can double your donation amount.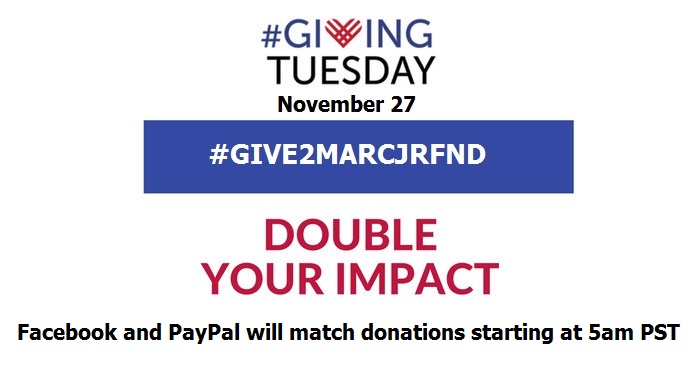 Visit our Facebook page https://www.facebook.com/marcjrfnd  on Tuesday, November 27, 2018, and Click the Donate button and the Facebook and Paypal will match the total amount you choose to give.
We welcome you to donate at any time by clicking the Donate button below or by mail.
Two Ways To Donate
Online
Mail
Marc Jr. Foundation PO Box 33042 Northglenn, CO 80233